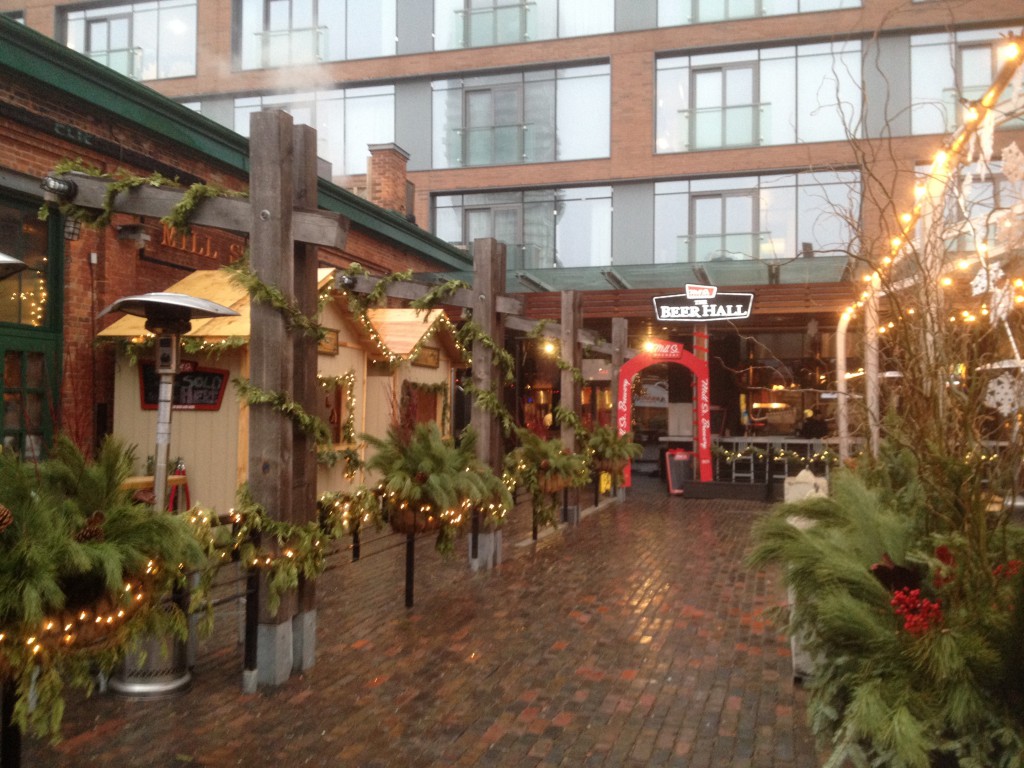 Christmas market at the Distillery district
The day before yesterday we finished the evening going out and having a light dinner at the food court at the Eaton Centre. Tiffany had some poutine, and I settled for a Subway sandwich. Erika got some sushi… which unfortunately turned out to be a very bad choice.
After spending most of the night in the bathroom, she was in no shape to go out the following morning. Tiffany and I felt awfully sorry for her, but little could be done about the situation. Eventually we both had to leave her as we… well, we did have to start with getting something to eat. And the natural choice was, once again, the Patrician.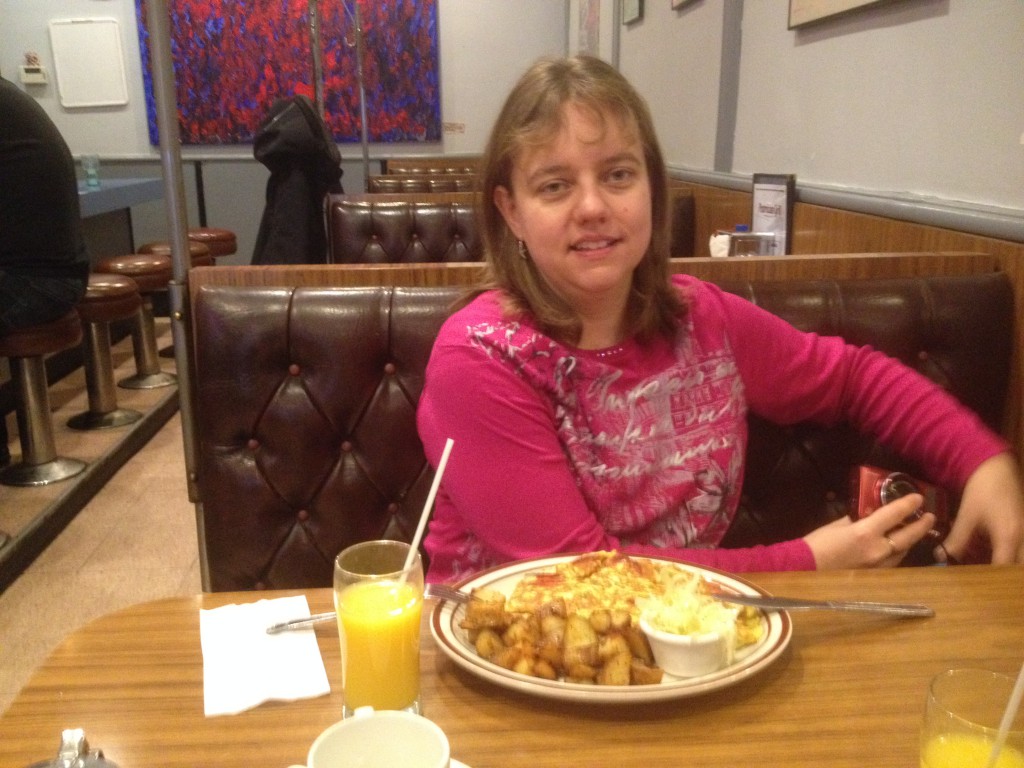 Tiffany at the Patrician
After finishing breakfast, we walked on towards the Distillery District and the Christmas market. To me, being used to Swedish Christmas markets, it actually came off as rather modest, but it's a great environment for this kind of market. But to be honest, the most interesting stores are, no doubt, those that are located inside the old distillery buildings. You can easily stroll around there for hours.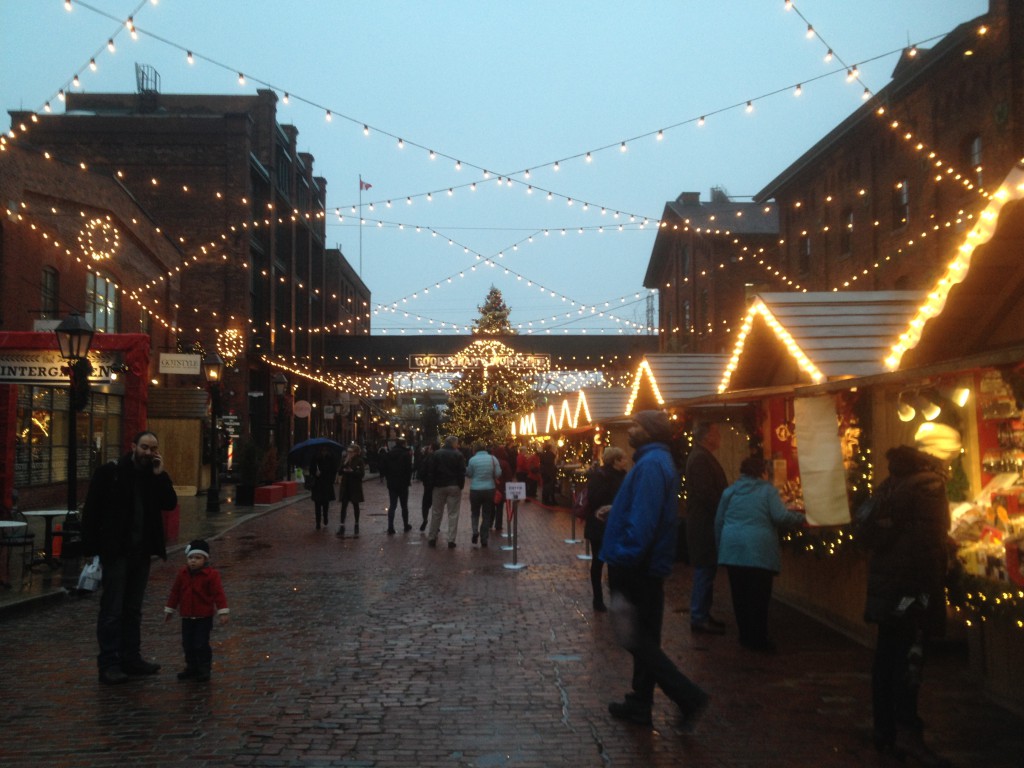 The only bad thing about today was the weather. While not exactly pouring rain, it was quite a drizzle at times, and the clouds were so low that the top of the skyscrapes (including, of course, the CN tower) were hidden in mist. So occasionally we had to seek shelter in a shop or somewhere indoors… but, it could surely have been even worse, so I'm not really complaining. 😉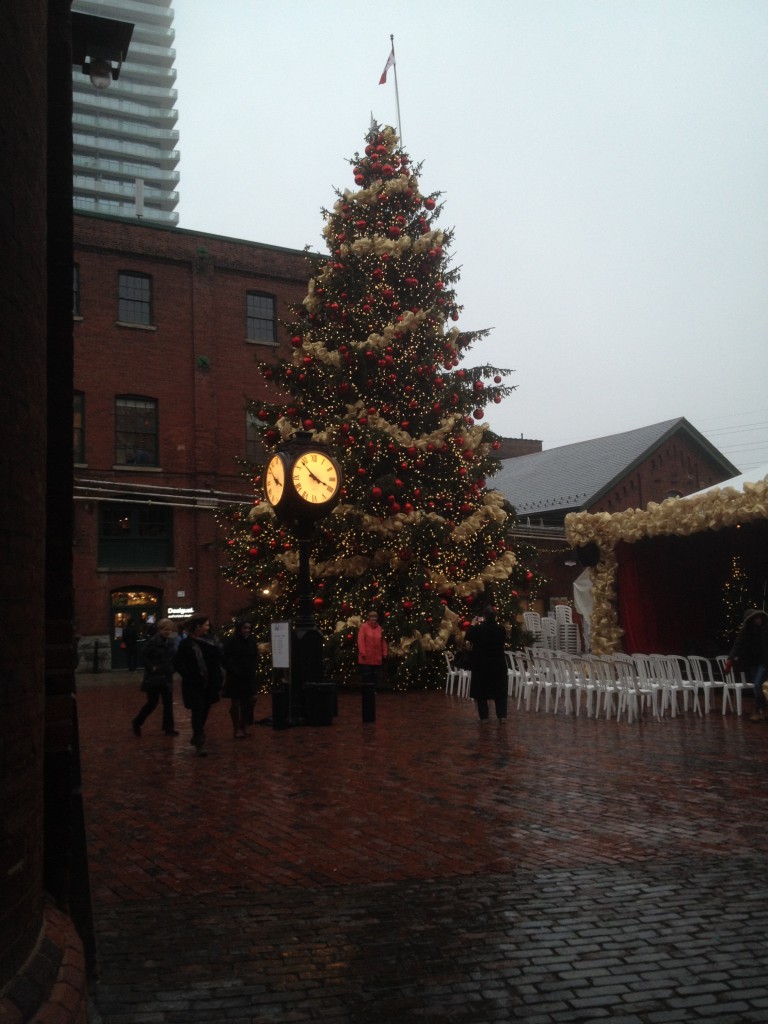 We also took a walk along the harbour, and the Harbour Square park. While we just met a very few people (since most of the business sites, including the ferries, are closed for the season) we saw a lot of native animals. There seem to be quite a few black squirrels running around, and while we do have squirrels in Sweden, they're all red, or white in the winter.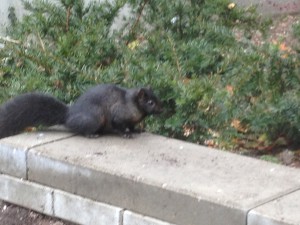 A while later, we also saw some Canadian geese, sleeping peacefully at the deck! They didn't mind us at all as we were  passing them. We do have them in Sweden too, but only in the summers.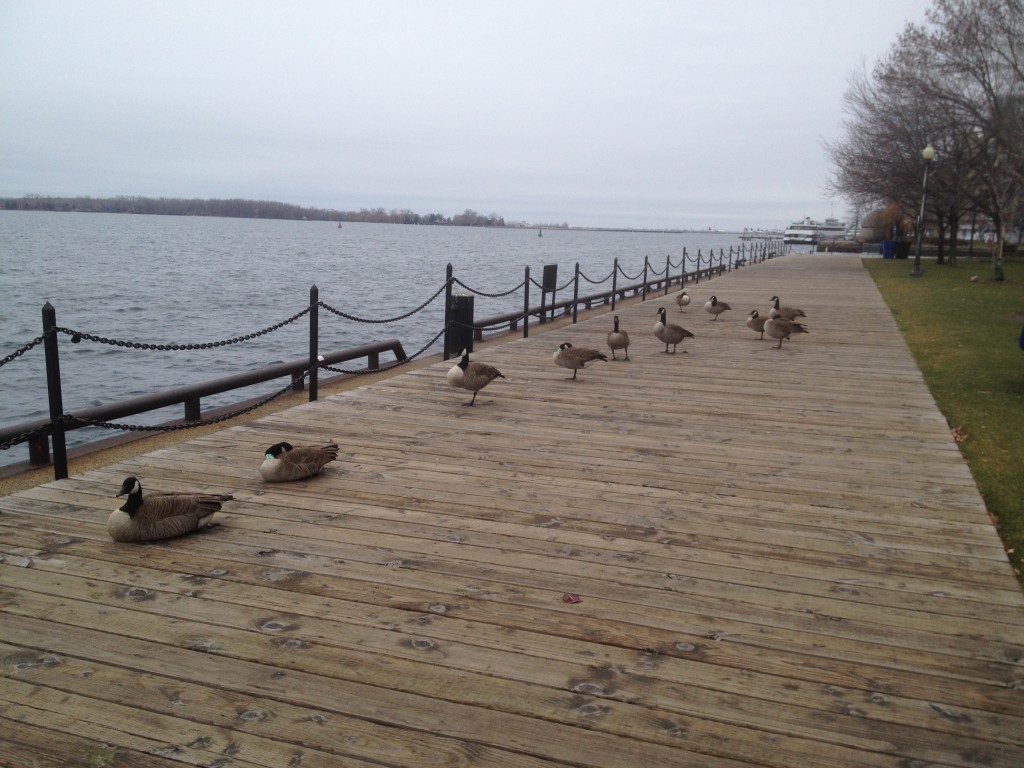 Then, we headed towards the CN Tower. Since Tiffany has already been up there on her last visit, and I wanted to wait for Erika to get better so we could go up there together, we just paid a visit to the souvenir shop. I was actually planning to buy a pair of CN Tower earrings, but they seem to be out of stock! 🙁 However, they had lots of other fun things just to look at, so it was still worth a visit.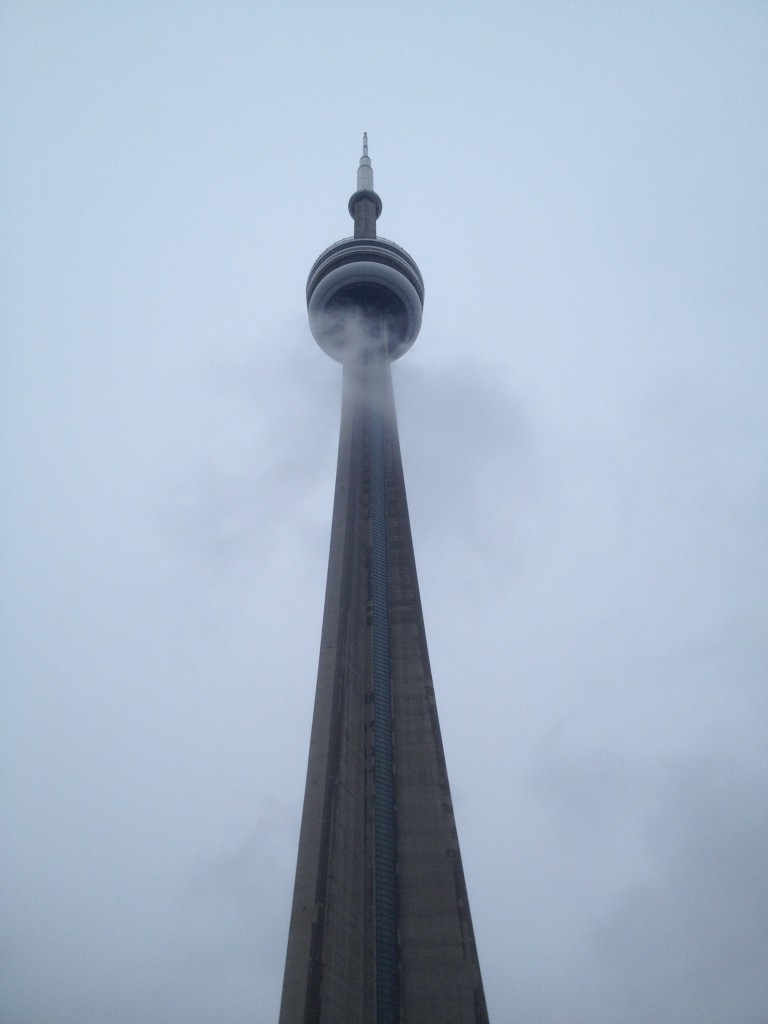 Clouds passing by the CN Tower
After leaving the CN Tower, and a quick check on Erika, who was still feeling unwell, we made our way to the Canadian Stage (Berkley Street downstairs theatre) box office to pick up our tickets for Domesticated! Once again, we were touched by the politeness of the Canadian people… this time represented by the service minded staff at the box office. Since Erika was still feeling unwell, they were able to reschedule her ticket to the next day's matiné performance (which Tiffany and I were already planning to attend anyway).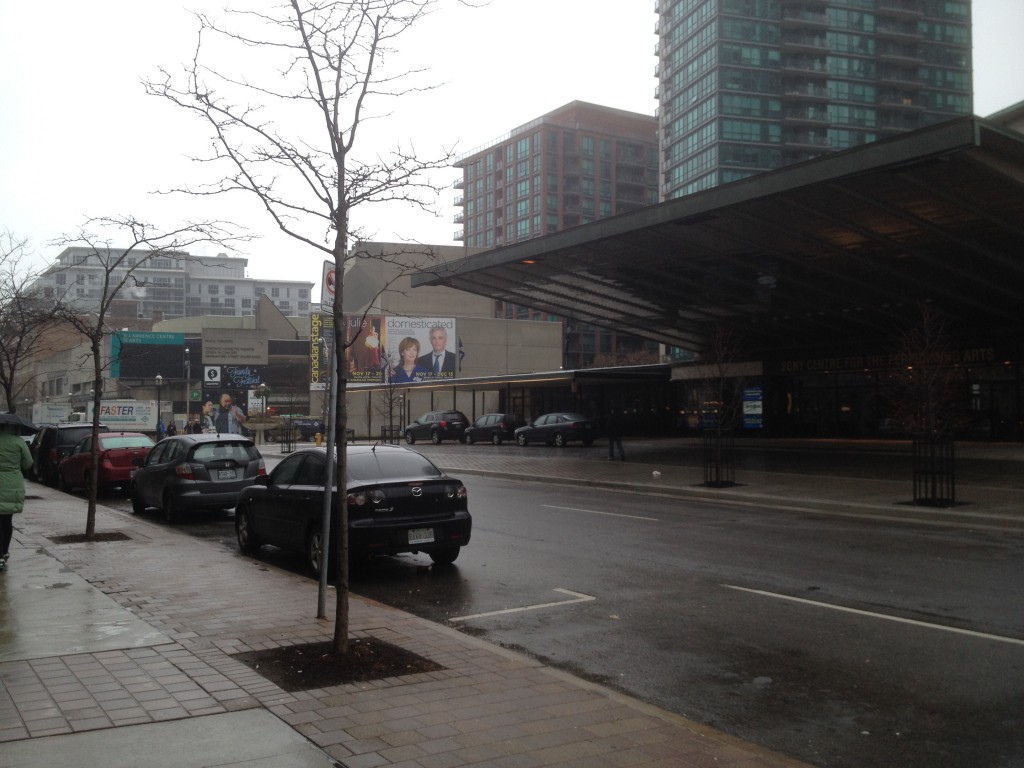 Domesticated poster near the Sony Centre
As soon as we had finished our dinner, we once again walked to the Berkley Street (Downstairs) theatre, since it was finally time to see the play for the first time!
And now, I know that many of you wonder what we actually thought about it? Well, some people might argue that I'm already kind of biased here, but honestly, I'm not. Paul Gross and Martha Burns are both great actors, but though I've never, ever have had anything to complain about regarding their acting and performances, no matter what films or TV series they've appeared in, there are some productions that I haven't been overly pleased with, mainly because of script reasons.
This play, however, (which also happens to be the first time I see them both live on stage), is nothing short of brilliant. The language and subject matter might be a bit uncomfortable for some viewers, but none of my group thought it was over the top, and we had no problems appreciating this dark kind of humor and the seriousness behind it all. Paul Gross' character, Bill, is not likable in… well, basically not in *any* way, and it's not supposed to be that way either. Martha Burns is his betrayed wife, Judy, and her reactions to her situation feel very genuine and authentic.
The scenes involving the family; merely their two teenage girls, are all very sad. One of the daughters is very verbal, bitter and full of hate, and the other one is silent, but still very much negatively affected by the situation, which definitely shows in so many ways.
I was already aware of this, watching Paul Gross' other productions, but he is definitely a master of silent communication. In the first act, he's mostly quiet, but his body language says it all. With minimal gestures, sometimes just the twitching of a foot or the tensing of the jaws, you can tell exactly how uncomfortable he is, or what's going on in his head. The same, of course, goes for Martha Burns, but overall, she's got the most spoken lines of the two.
The framing of the play is also very well done–throughout it all, the youngest daughter is reciting a number of school presentations regarding the relationships between the males and the females of various exotic animal species… where the role of the male is gradually diminished…
There were lots of laughing from the audience, but it is the sarcasm and the irony that provokes it, and while hopefully not *all* men out there are as bad as Bill, I think that unfortunately, many couples can relate to some of the situations. The play is certainly not over when the youngest daughter states that her presentation is concluded, and it's definitely meant that you should think about–and discuss–what you've seen for a long time afterwards…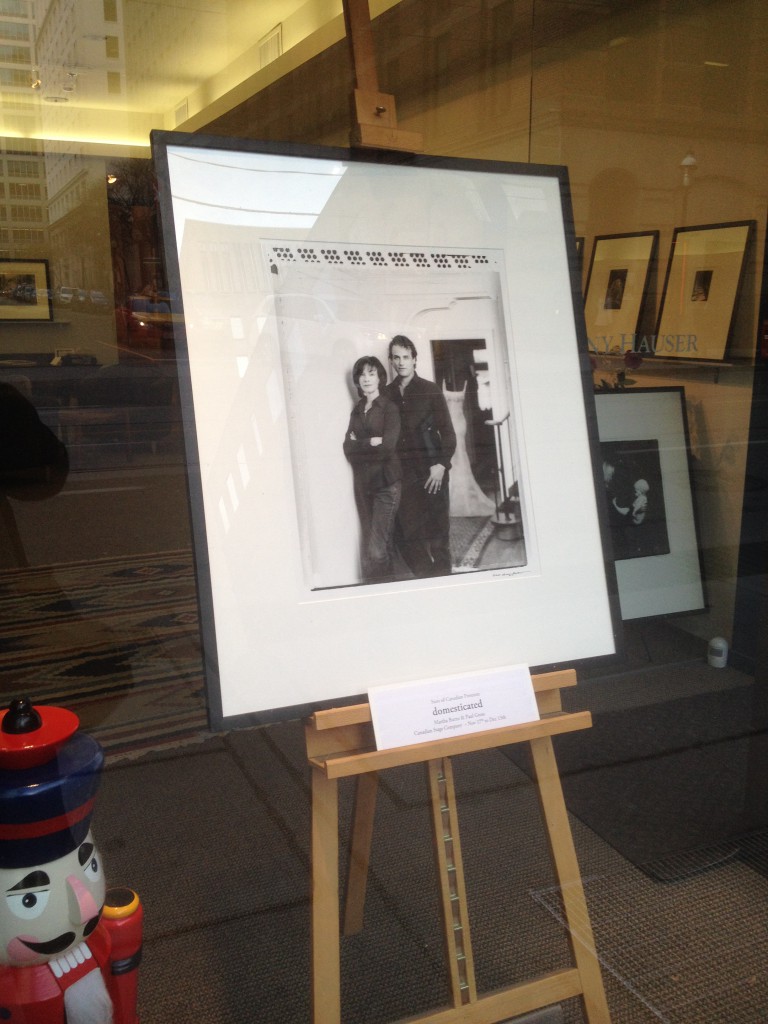 Martha Burns and Paul Gross from around the time of Slings and Arrows (picture found at a photography gallery window in Toronto)