About this blog:
This blog originally featured Anna's and Erika's transatlantic trip to the US and Canada in 2014, which included a visit to the the RCW 139 convention. In the process, however, I (Anna) discovered that I really enjoy blogging about my travel adventures… so, I decided to keep it for future use!
Far from all of my trips are transatlantic, and only a few selected ones will be featured here. I will, however, revive this blog on regular intervals, and I'm looking forward to sharing my experiences with you all!
To "keep track" on me on a sort of… kind of… daily basis, please follow me on Twitter, or visit my tech support business site, MejDej Teknikhjälp (in Swedish only, sorry…).
All the best;
Anna
Below is the original introduction text to this blog.
Who are you?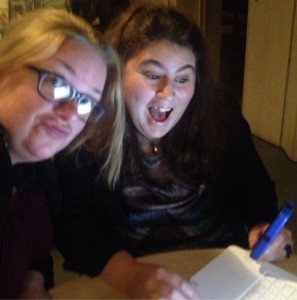 This is Anna (to the right) and Erika (to the left). They are two Swedes (well, technically Anna is 50% Swedish, 50% Spanish and 100% certifiable). Anna is also known as "@DaStraycat" on Twitter, "Tangelian" on YouTube and variations thereof on other sites and forums.
Erika is also known as "@Sweet_Sunshine" on Twitter and "Xerika" on Instagram.
They're both members of the same gospel choir, "Great Joy" at the Vasa church of Umeå, in the north of Sweden.
Erika is a longtime fan of due South. She first watched it during its original run in the 90's. Anna has been (and still is) a part of various fandoms. (For one thing, she's always carrying a One Ring around her neck). Somehow, however, she had totally missed dueSouth until she was finally introduced to the series in 2012, (by her awesome friend Annika).
As an almost over-active Twitter user, Anna was starting to use the #dueSouth hashtag a lot, and while she and Erika hadn't spoken about their love for the series IRL, Erika was following Anna on Twitter, and realized they had a common interest. One Wednesday, when Anna arrived at choir practice, Erika greeted her by singing "Ride Forever" and the due South theme….
From that Wednesday on, the nerdometer really hits the church ceiling every time these two girls meet. When the RCW 139 team announced that there would be a due South 20th anniversary convention in Toronto in August 2014, they both knew they had to go… and the planning process began, more than ten months before the convention was supposed to take place.
This WordPress blog was created by Anna with the purpose of sharing our progress, our anticipation and excitement for the trip. Eventually, of course, it will also contain pictures, movies and memories from the trip itself.
The convention is held in Toronto between August 15-17 in 2014, but our preliminary plans are to travel via New York, Chicago and Ottawa.
On December 15, we booked the tickets for the first part of the trip, and the return ticket. So now we know that we're leaving Stockholm on August 1, 2014, heading for New York, and we'll return to Sweden (Stockholm) on August 20, 2014.
Why "due South"? And what is it, anyway? And RCW 139? …in English, please!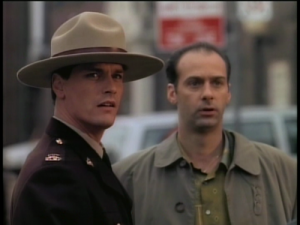 Oh dear… how did you even find this blog? 😛
Due South is an awesome drama/comedy Canadian TV series created by Paul Haggis in 1993. It ran for three seasons between 1994-1999 and is one of the few Canadian series that were ever launched worldwide. It features the Royal Canadian Mounted Police officer Benton Fraser, who first came to Chicago on the trail of the killers of his father, and for reasons that don't need exploring at this juncture remained, attached as liaison with the Canadian Consulate. Used to the wilderness of the Northwest Territories of Canada, he suddenly finds himself in big city USA.
No, really, for a more detail description we suggest you visit its Internet Movie Database site or any of the related links from the sidebars.
RCW 139 is the name of the official fan conventions for due South that have been held in Toronto, approximately every other year since 1996. In 2014 it will celebrate the series 20th anniversary. It might also be the last convention.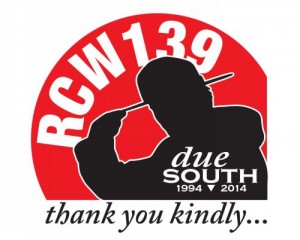 More information can be found on the official site.
Oh, and you wonder about the name? It was taken after a frequently re-appearing license plate used on various cars in the series. It was said to be coincidental at first, but then it migrated into an internal joke.
Did you create this blog to beg for sponsorships/donations?
Definitely not. We're financing this trip all by ourselves.  But if you feel like donating to charity, why not choose any of the organizations that are mentioned here, on the RCW 139 charity auction page?
Are you crazy?
As mentioned above, Anna is 100% certifiable–and proud of it. I guess we both are. But if you mean "crazy" as in "do you live in a mental hospital?" the answer is no, we don't. We both have regular jobs and regular friends and… well… hold it right there for a second. For whatever you do, don't refer to us as "normal" people…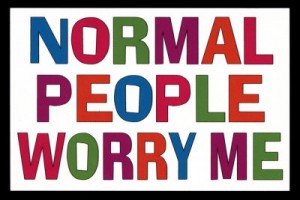 Updated on July 14, 2014: Finally, here's our complete schedule:
August 1:
09:50 am: Departure from Umeå to Stockholm with Norwegian Airlines.
5:35 pm: Departure from Stockholm to New York with Norwegian Airlines.
8:05 (local time): Arrival in New York (JFK Airport).
Checking in at the Carter Hotel at Times Square, New York.
August 4:
Checking out from the Carter Hotel.
11:20 am: Departure from New York (La Guardia) with American Airlines to Chicago (O'Hare).
12:50 pm: Arrival at O'Hare, Chicago.
Road trip to Henderson, Kentucky.
Checking in at the Holiday Inn Express, Henderson, Kentucky.
August 7:
Checking out from the Holiday Inn. Road trip back to Chicago.
Checking in at the Howard Johnson Inn and Suites Elk Grove Village, Chicago.
August 11:
Checking out from the Howard Johnson Inn and Suites Elk Grove Village, Chicago.
10:46 am: Departure from Chicago (O'Hare) to Ottawa.
1:39 pm: Arrival at Ottawa airport.
Checking in at Hotel Indigo Ottawa, Downtown City Centre.
August 14:
Checking out from the Hotel Indigo, Ottawa Downtown City Centre.
08:32 am: Departure from Ottawa via VIA Rail.
12:49 pm: Arrival in Toronto.
Checking in at the Toronto Marriott Bloor Yorkville Hotel.
August 15-17:
The RCW 139 convention at the Marriott hotel.
August 18
Checking out from the Toronto Marriott Bloor Yorkville Hotel.
Departure from Toronto to New York (La Guardia) at 3:59 pm.
Checking in at the Carter Hotel, New York.
August 19:
Checking out from the Carter Hotel.
Departure from New York (JFK) with Norwegian Airlines at 9:30 pm to Oslo, Norway.
August 20:
3:00 pm: Departure from Oslo, Norway to Stockholm.
8:20 pm: Departure from Stockholm with Norwegian Airways to Umeå.