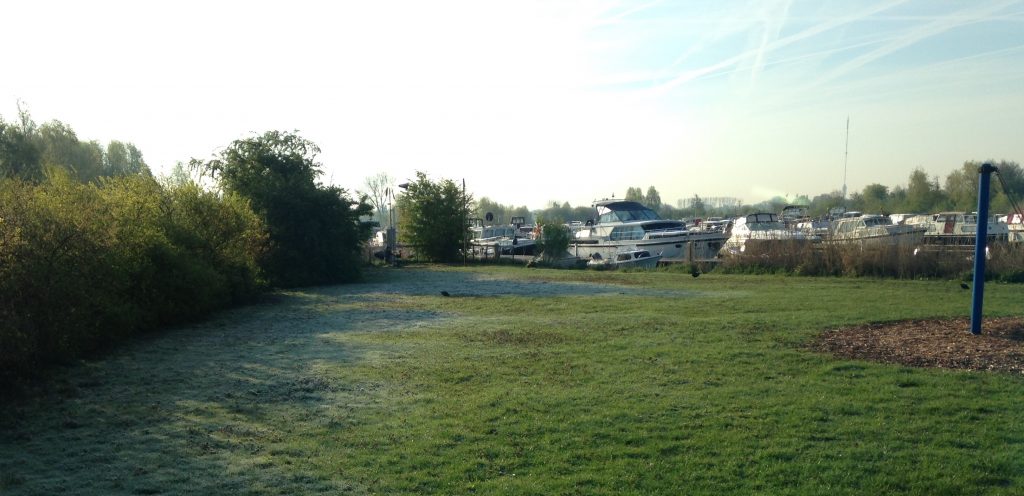 A crispy cold spring morning in IJsselstein. View from the cottage. (Click to view the full size version, and you'll see the coots enjoying their breakfast!)
In IJsselstein, we woke up to a crispy cold morning; in fact, the temperatures had been freezing during the night, and the grass was white with frost, despite the season!
The cottage was located just by a larger canal, and a harbor for leisure boating. At breakfast, we discovered that the location was also ideal for bird watching, as a large variety of species presented themselves just outside the window. There were some coots, grebes, and quite a few ducks.
Breakfast and the packing was rather rushed, however, because we knew we had to locate some kind of car repair shop before we would dare to drive more than a few kilometers. The engine light was still on when we started the car again, so any hopes of a temporary issue quickly died as we drove up to our host's office nearby, to drop off the cottage keys.
However, our host had a friend, who recommended a car repair shop that were just a few blocks away! Still, we were expecting hours of waiting, and possibly a hefty price tag… but as we explained the problem to one of the repair guys, he just came out with a little hand held device, and hooked it up to the car to read the error code message from the computer. Then he told us that we shouldn't worry–it was just the catalyzer that was a little "dirty," probably because we'd been stuck in heavy traffic for so long on the day before.
He told us that we could keep on driving to Spain, but then we'd better change the oil and the oil and air filters, and we would be all right. As we asked how much we owed him, he just shook his head and refused any payment whatsoever! Once again, a Dutchman hero saved the day! 😀
Now, we could finally set course for the center of Utrecht, and we were all so excited about the car, and our upcoming visit at the Museum Speelklok, that we didn't mind the insanely intense traffic at all. We even found a parking space in a garage near the museum!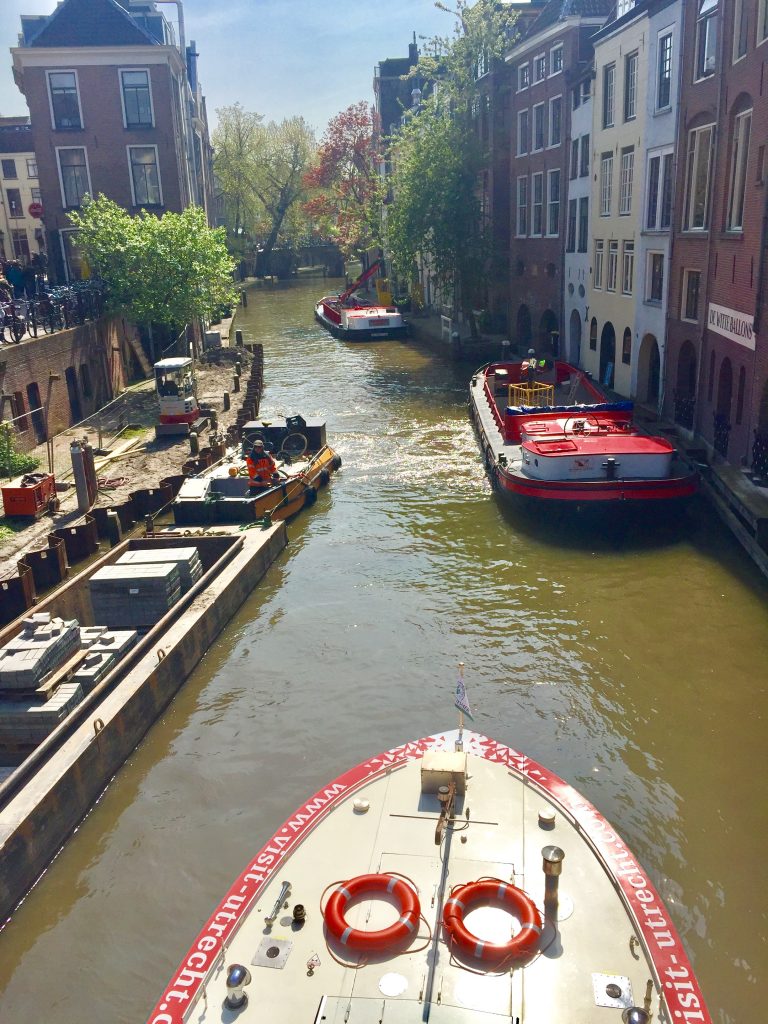 Canal boats in Utrecht. Unfortunately we didn't have time to take a sightseeing tour…
Actually, when you experience the traffic jams around Amsterdam and Utrecht first hand, you really understand why biking is the thing in the Netherlands. Yes, obviously, the landscape is very flat, and easily accessible by bike… but also, getting around these cities by car is next to impossible. And there are really nice biking tracks everywhere!
However, no one seems to care to wear a helmet, not even in the cities. I must confess I'm not too good at it either, when biking around my island (population 2 200), but in Utrecht, I'd definitely not go a meter without one.
It didn't take many moments to realize that Utrecht, as a city, seems to feature a very rich cultural life. There are advertisements for musical, arts, film and literature events (and much more) pretty much everywhere, and the city center has lots of really nice cafés.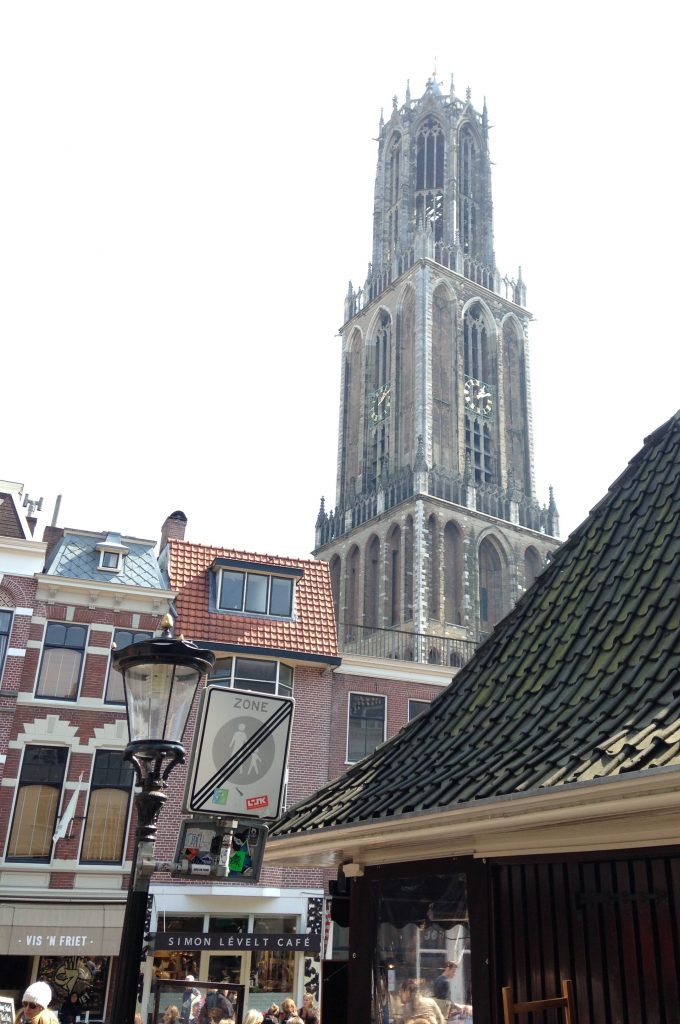 The impressive Utrecht Dom tower, built in 1382.
The Dom tower, (from 1382) is impressive! At 112,5 meters in height, it's the city's most known landmark. I would have loved to have taken a closer look at it, and just stroll around the city for hours–maybe also taken a boat sightseeing tour along the canals that cut through the central parts–but unfortunately, as our time was running out, we had to stick to what we really came for–the Museum Speelklok, the music box and music machine museum.
I first heard of this museum thanks to Wintergatan/Martin Molin–the guy who built the amazing Marble Machine, (which is one of the most jaw dropping things I've seen on YouTube). He had posted clips from a visit to the museum on their YouTube channel, and since I've always, for as long as I can recall, have been very fascinated with all kind of music boxes, (and music, and retro technology, and retro technology machines that can play music…) I was very excited to find out that there was an entire museum dedicated to those things!
The Marble Machine on YouTube.
Hence, when I heard my mum and dad were planning to drive this car down to Spain, I offered to come along if we plotted our course so we'd be passing through Utrecht… and they agreed to my terms! (Ironically, while my sense of direction is awful, I'm really good at reading maps and setting up the GPS!)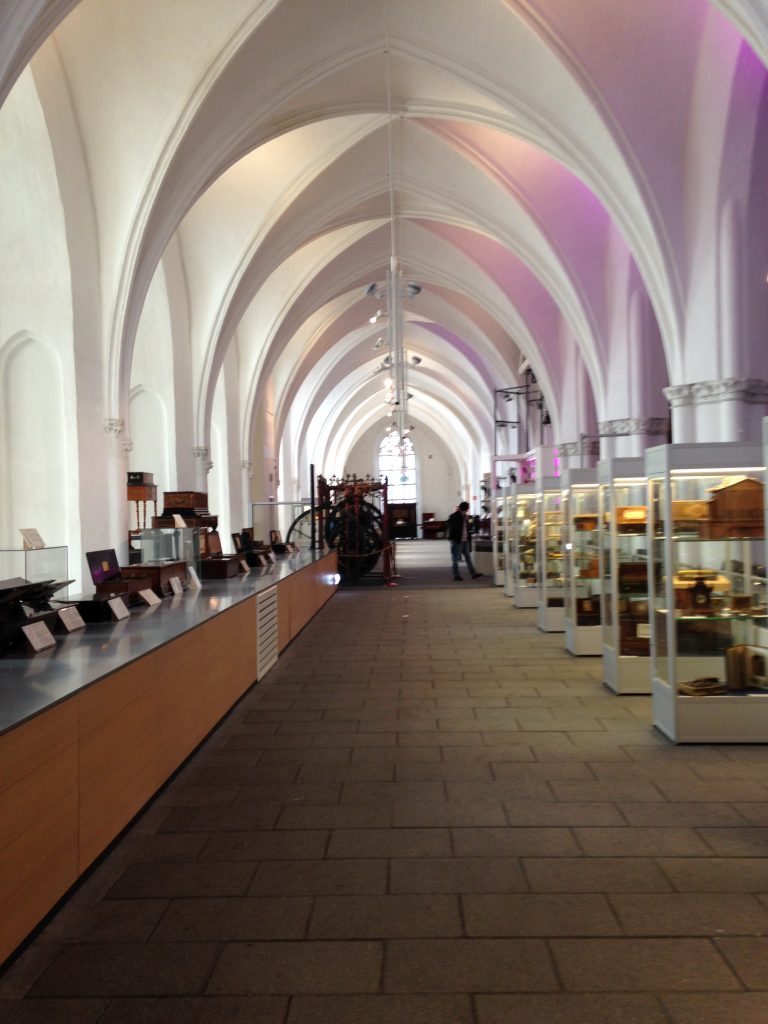 The upper floor of Museum Speelklok, Utrecht.
So, now, here we were… and the museum turned out to be even more impressive than expected! It's located inside an old church, (that had been abandoned for years before the museum opened in 1984). It has great chambers which are just perfect for its purpose, and it features countless of musical machines, dating back to the 18th century!
At the reception desk, we were instructed to look for a guy wearing white gloves, as the guided tour of the hour had just started. And he turned out to be a really talented tour guide indeed! He carefully operated the delicate machines, and you were totally blown away by the creativity and ingenuity of their creators!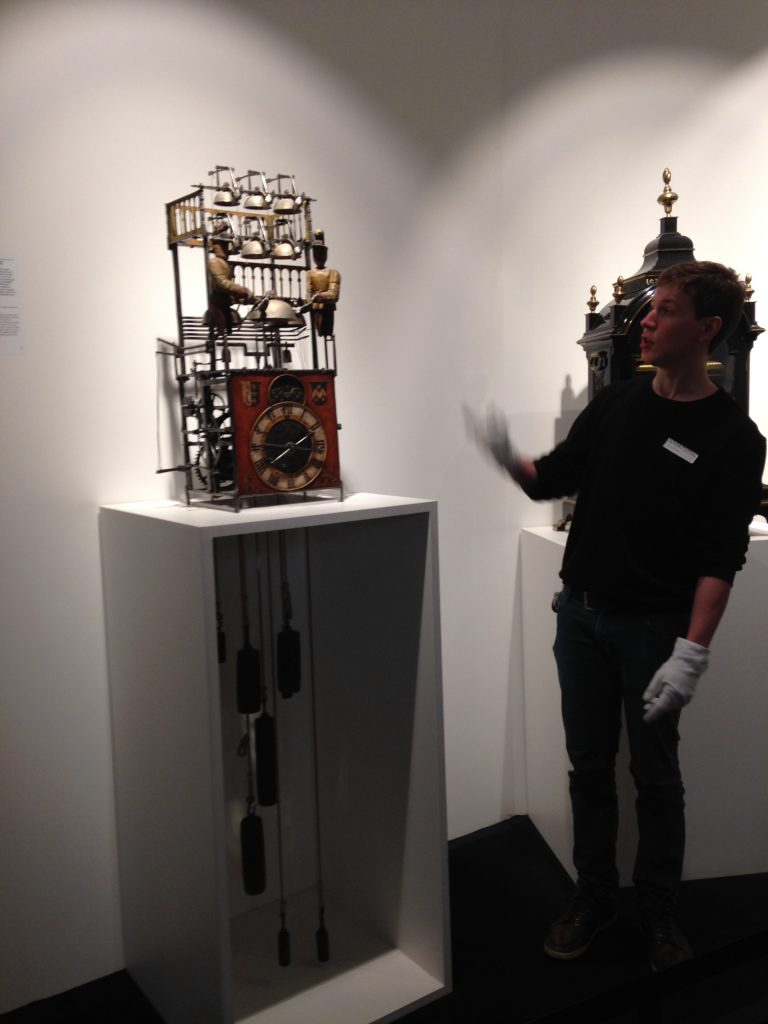 Lieven, our tour guide, demonstrating a musical clock.
There were everything from gigantic mechanic organs, that basically were housing entire orchestras within, to the tiniest music boxes just half the size of your palm. There were self playing pianos, programmed to feature the playing style of specific pianists, and 19th century styled "Juke Box" playing your favorite music box tune if you fed it a coin… and lots of other amazing creations.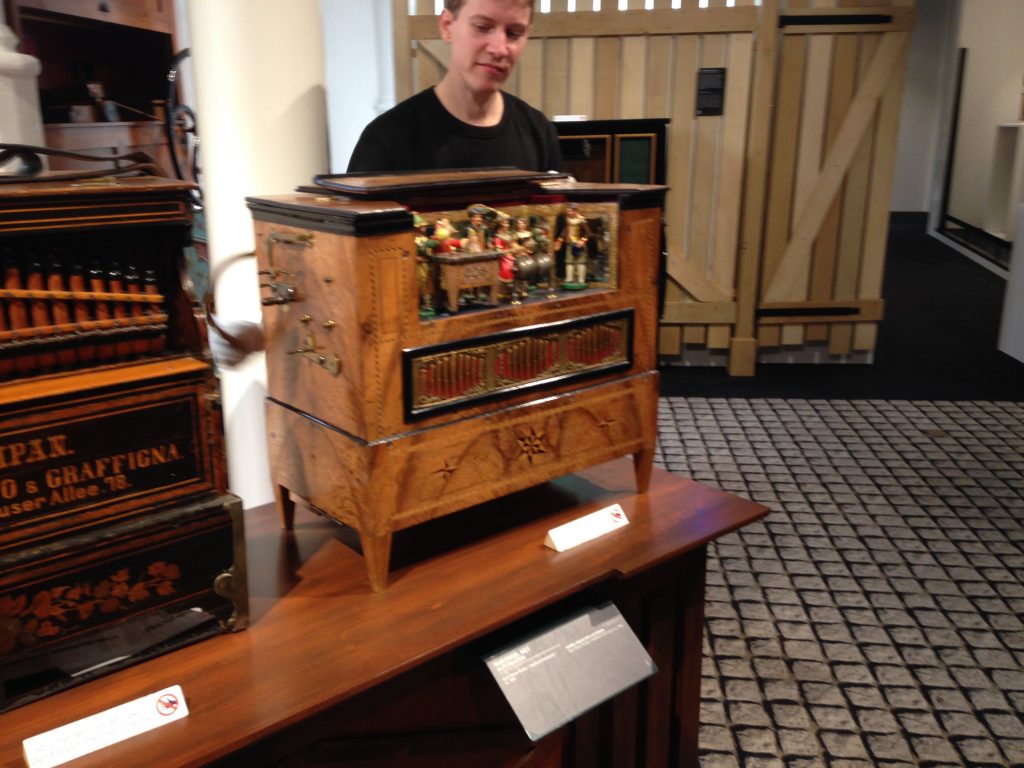 Some beautiful and very detailed barrel organs.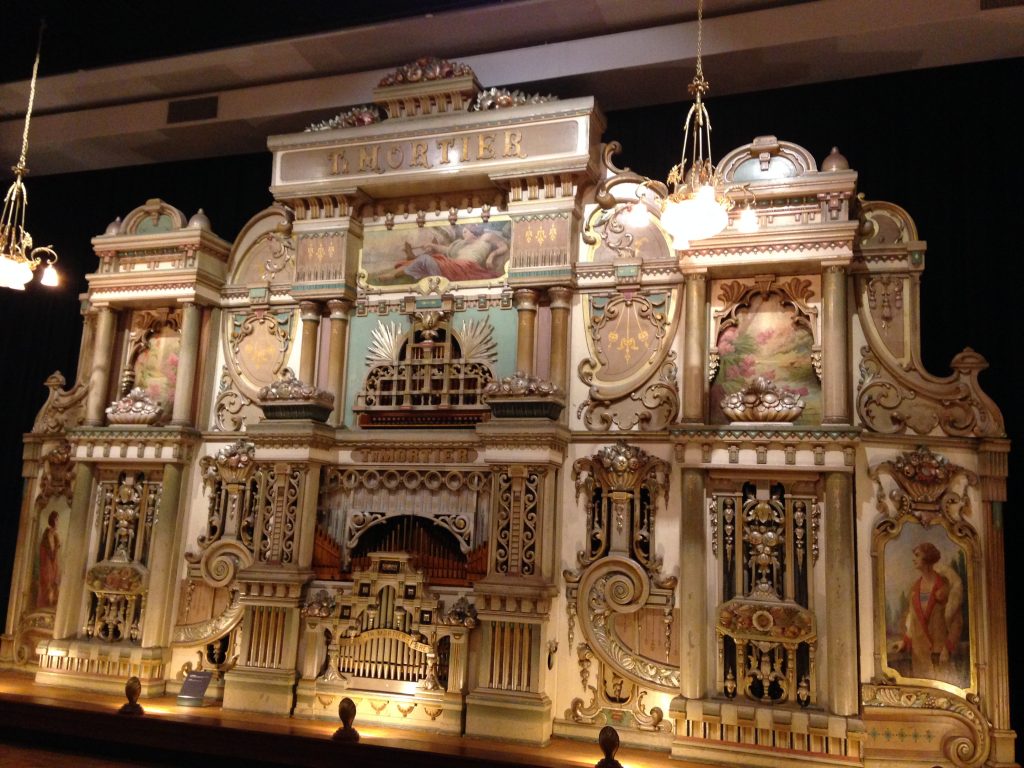 A gigantic mechanical organ (several meters in height).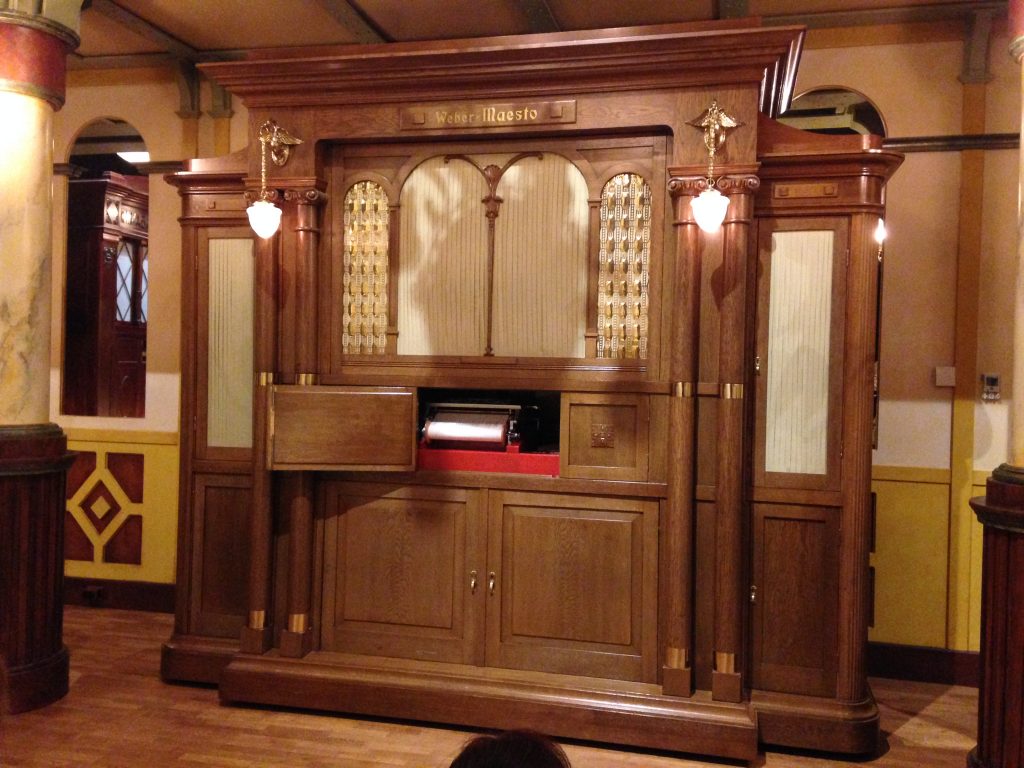 This organ was hiding an entire orchestra behind its doors!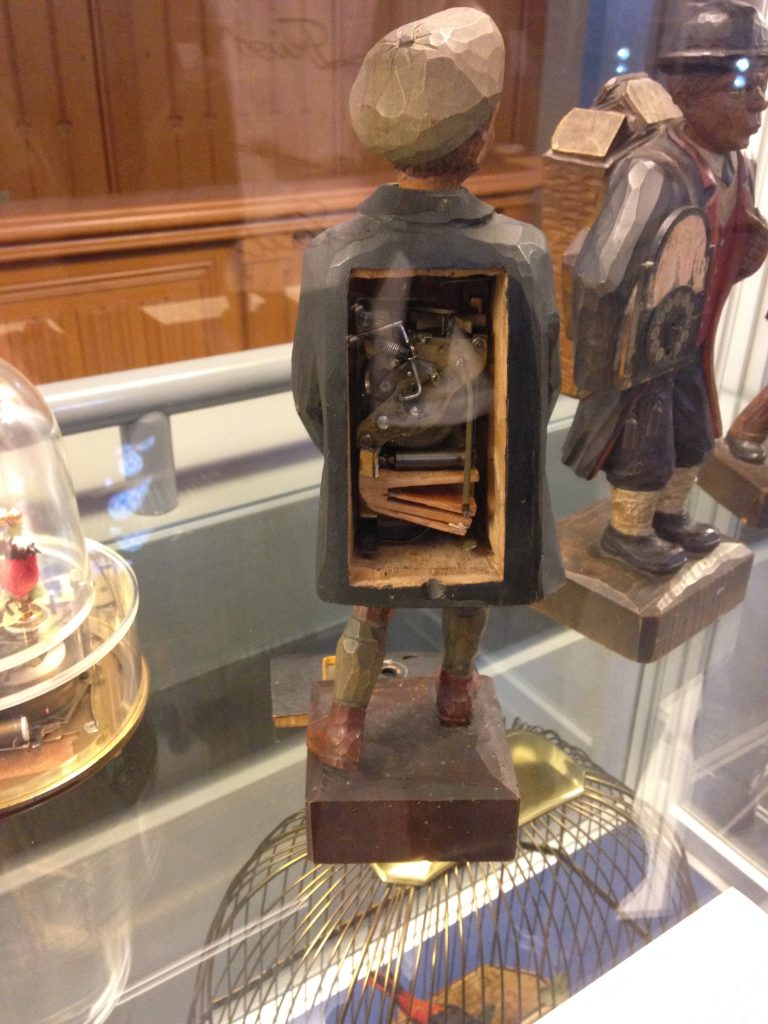 "The Whistling Boy," a genius piece of engineering (about 20 cm in height) displayed in a glass monter.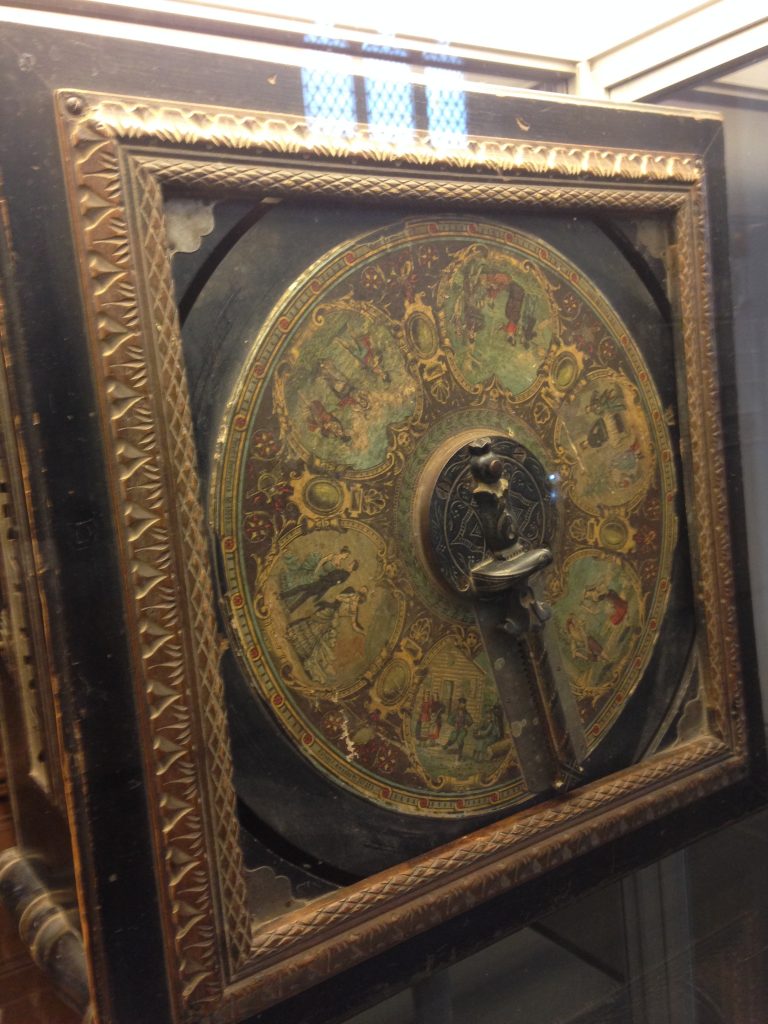 Ancient music box, behind a glass window.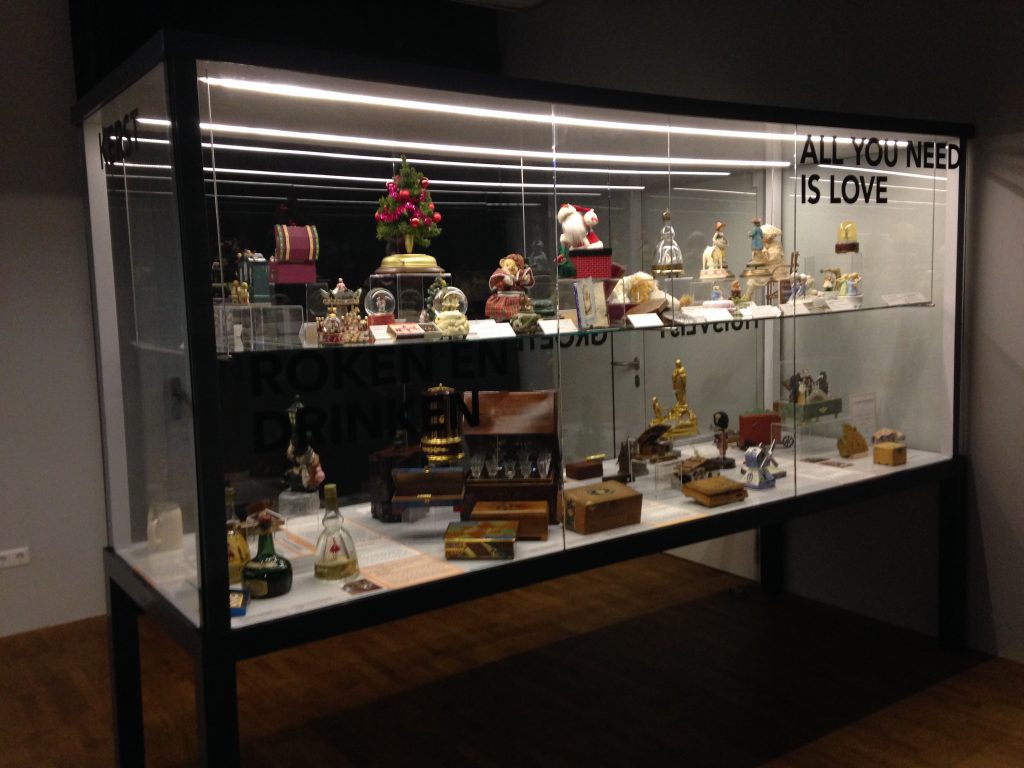 Temporary exhibition, "All You Need Is Love"…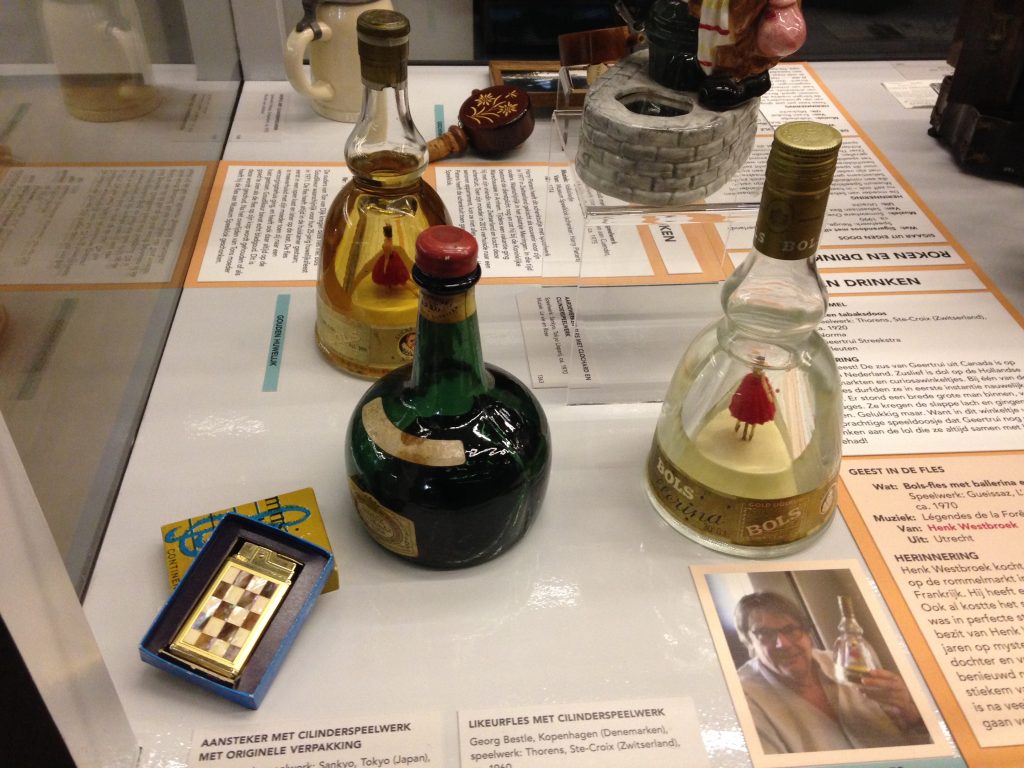 Miniatures in bottles.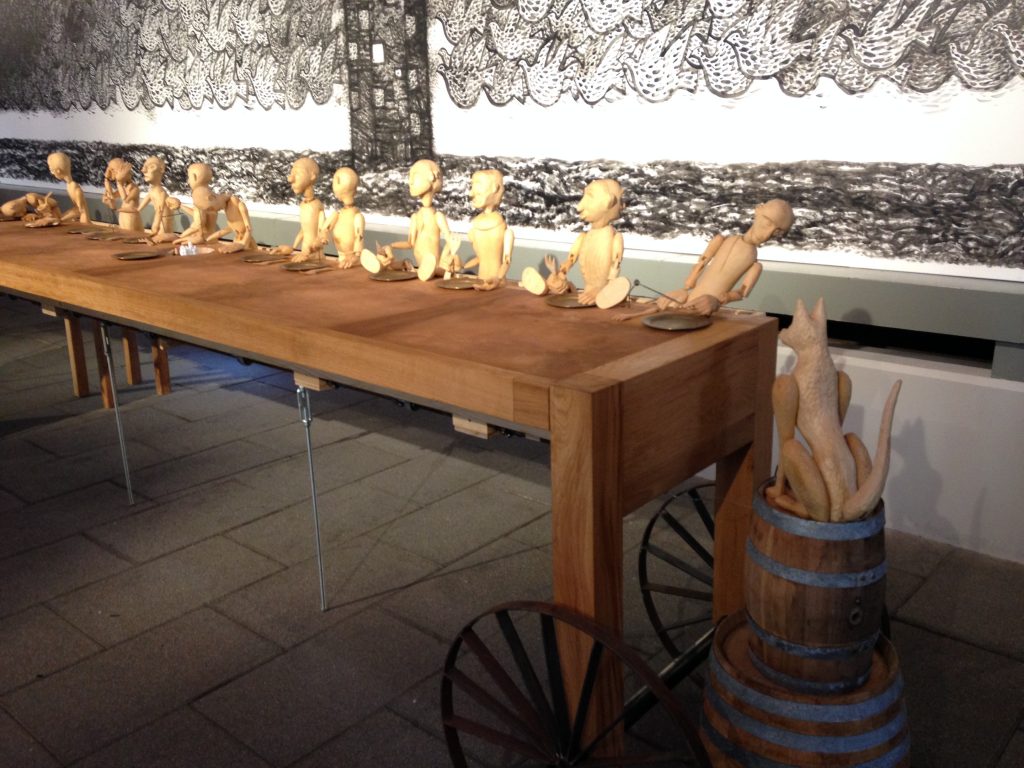 These wooden figurines moved individually whenever you turned a spoon handle counter clockwise around a bowl on the left…
The museum also features some temporary exhibitions, and ironically, just a few weeks before we went there, I heard that the Marble Machine, that I mentioned earlier, is going to be reassembled there, on site, within a couple months, to be part of the guided tour for some time to come. Hopefully, I will be able to make it back there before it's disassembled again–because I'm definitely coming back some day!!!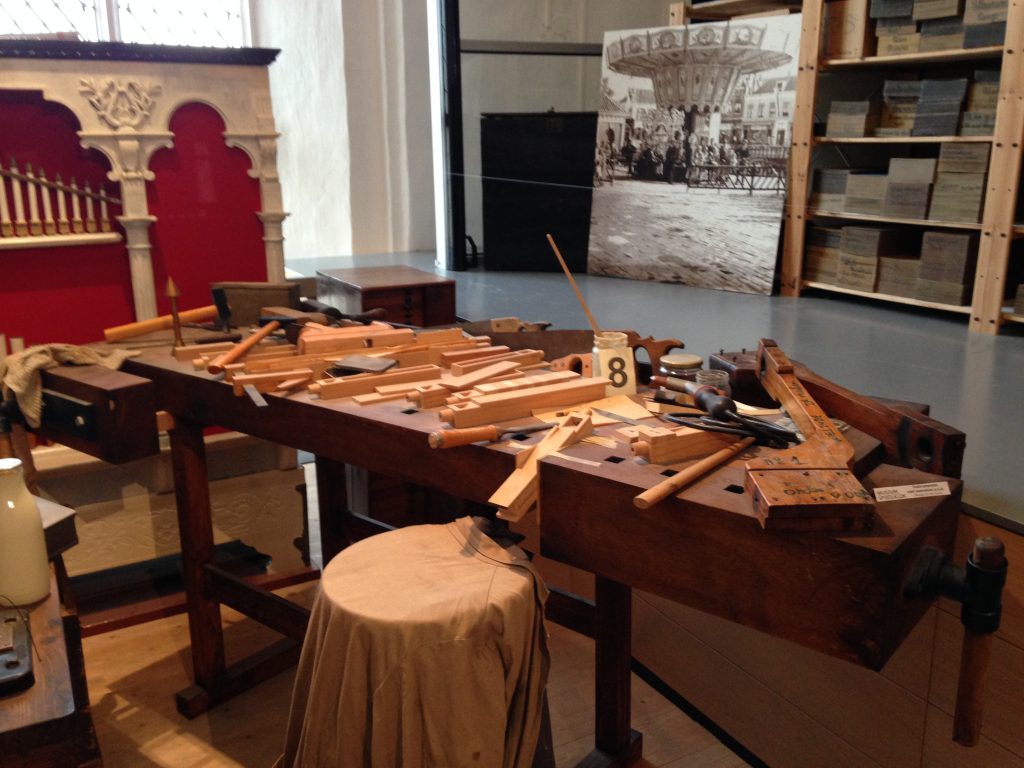 The workshop where machines are being restored and re-assembled.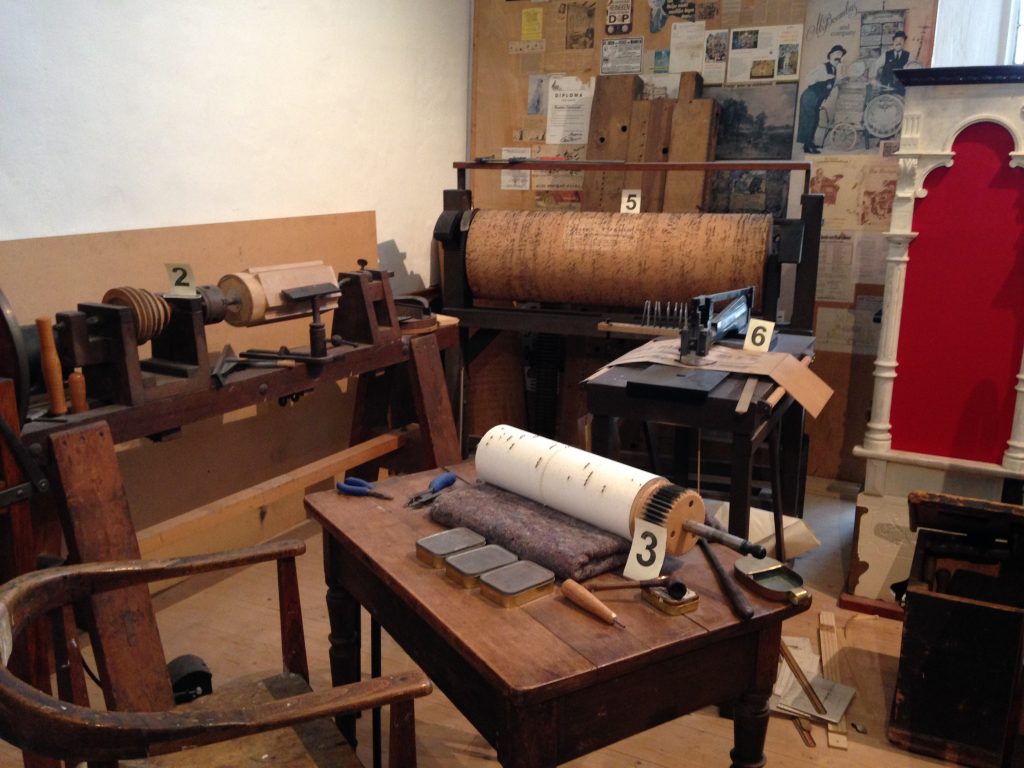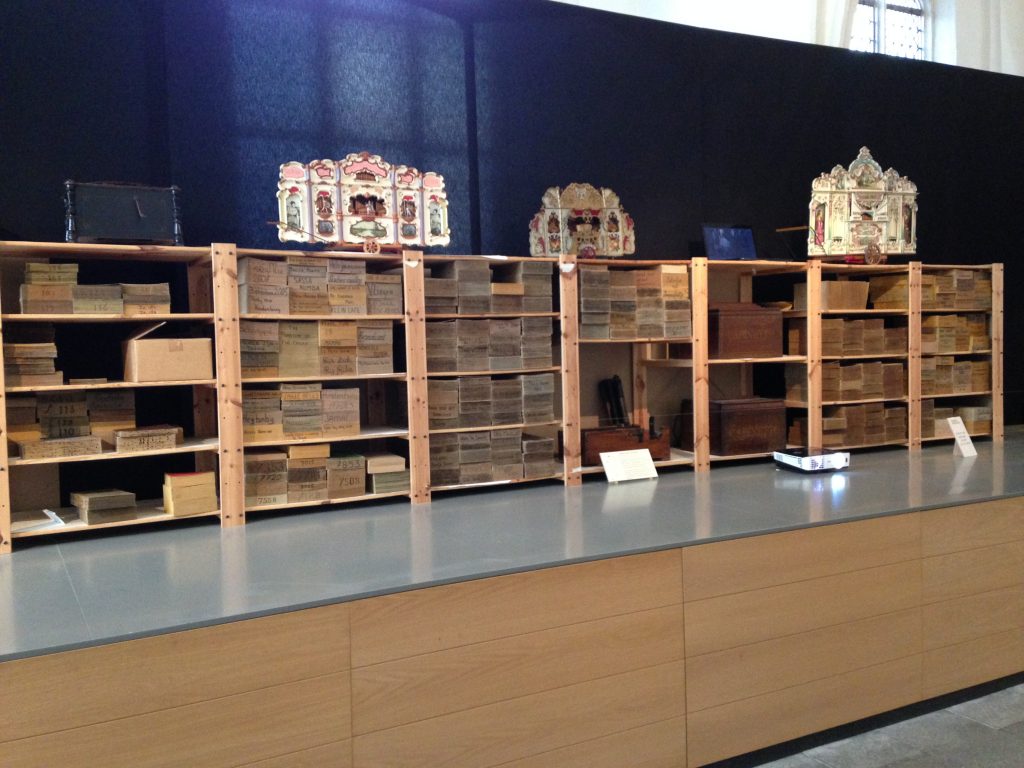 Shelf meter upon shelf meter of musical punch cards.
Beautifully illuminated full sized chime.
I did not take as many photos as I'd have liked–and the quality of the pictures leave much to desire–but that's mostly because I actually filmed a lot, and my plans are to make a longer video featuring the marvels of the museum. I will post links in a separate entry, once it's done.
Eventually, we had to leave, to be able to make it to our next Air B&B site before the owners' bedtime. It was with a heavy heart that I exited the museum doors.
I would really have loved to stay longer, and for one thing, it would have been great to have had a cup of tea at the museum café, surrounded by the miniature music boxes… It looked awesome, and very relaxing.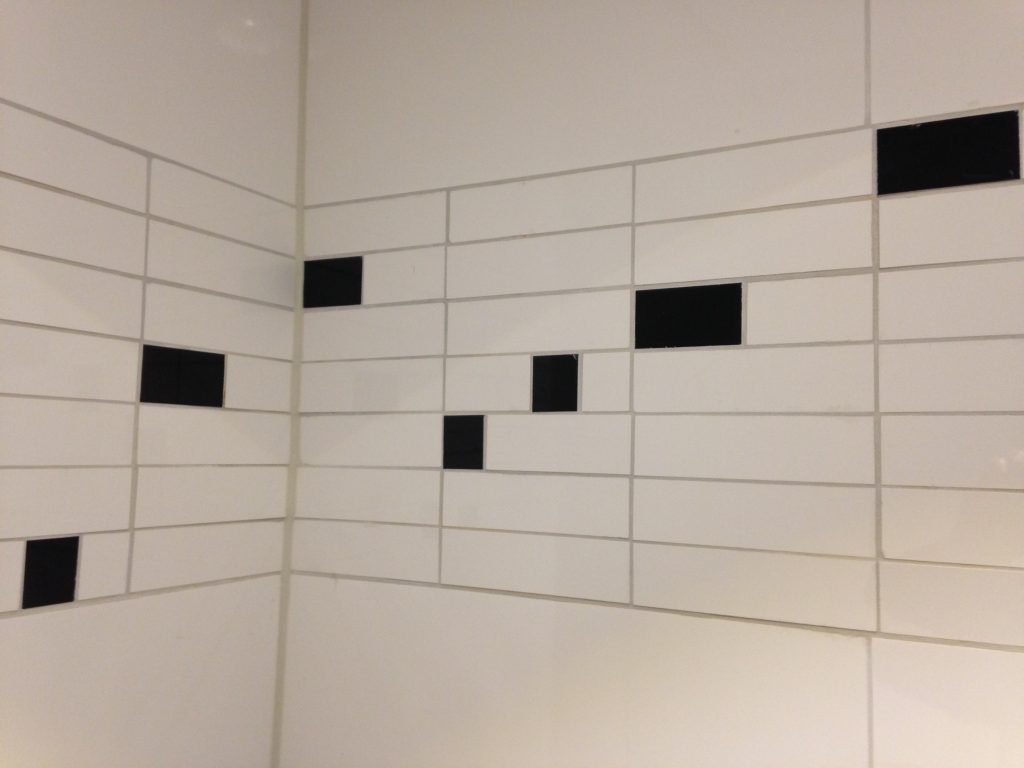 I loved Speelklok's attention to details. Even the tiles in the restroom area were designed like musical punch cards!
As we set out on the road again, I programmed the GPS with the coordinates for Storckensohn, the small village near the French-German border where we were going to stay for the next two days. It was with great relief that we finally left the heavy traffic and the highways behind us, heading for the mountains. The cottage turned out to be an old saw mill, and the hosts were very hospitable! It did not take long to prepare for bed, since we were all very exhausted once we got there.
Next day, the plan was to go to the nearby city of Colmar, where I was supposed to meet up with an old friend, whom I'd been missing a lot…