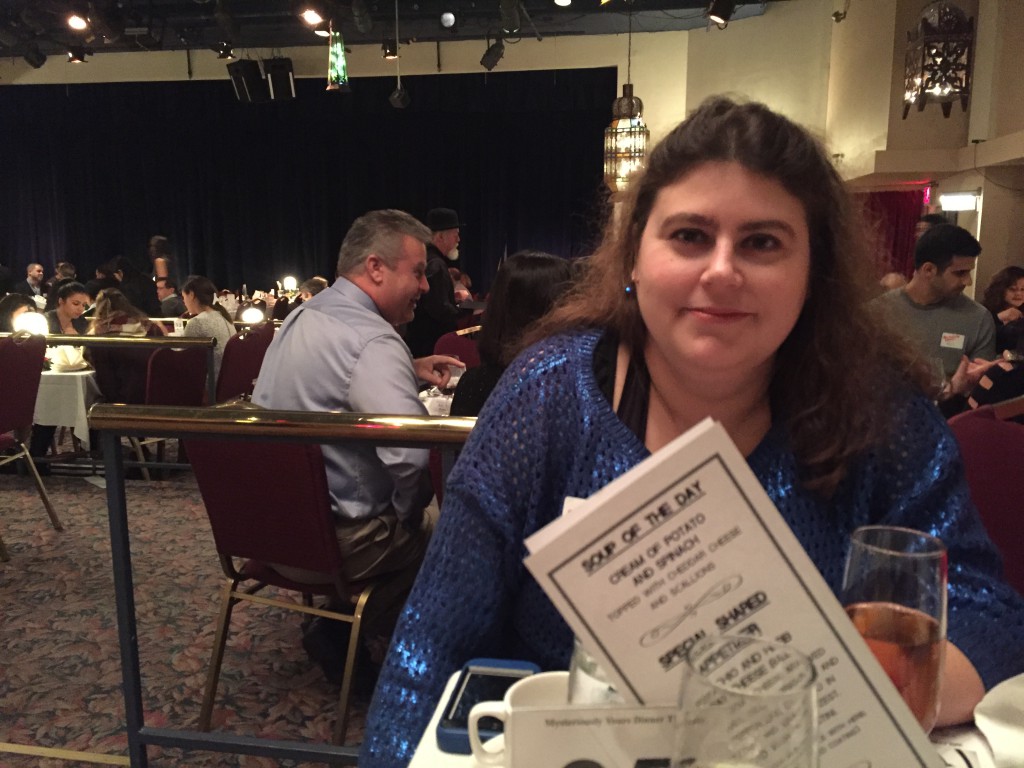 Eagerly waiting for the Mystery Dinner to begin.
On Saturday, we did a quick shopping round (after a mandatory, but lighter breakfast at the Patrician of course!) before we went to see another bunch of dueSers for lunch at the Pickle Barrel. Naturally, quite some nerding ensued… though we had had the pleasure to see some of them for a bit on the night before, as they returned after seeing "Domesticated" for the second time.
After the brunch, we returned to the hotel for a bit, and prepared ourselves to get out again, this time for the Mystery Dinner: Spy School. We took the subway to Davisville where we joined up with some other dueSers at Tim Horton's, before we continued to the actual restaurant/theater. Tom Melissis had reserved a total of 12 seats for us, and treated those of the guests who drink with free champagne. I settled with a glass of ginger ale. 😉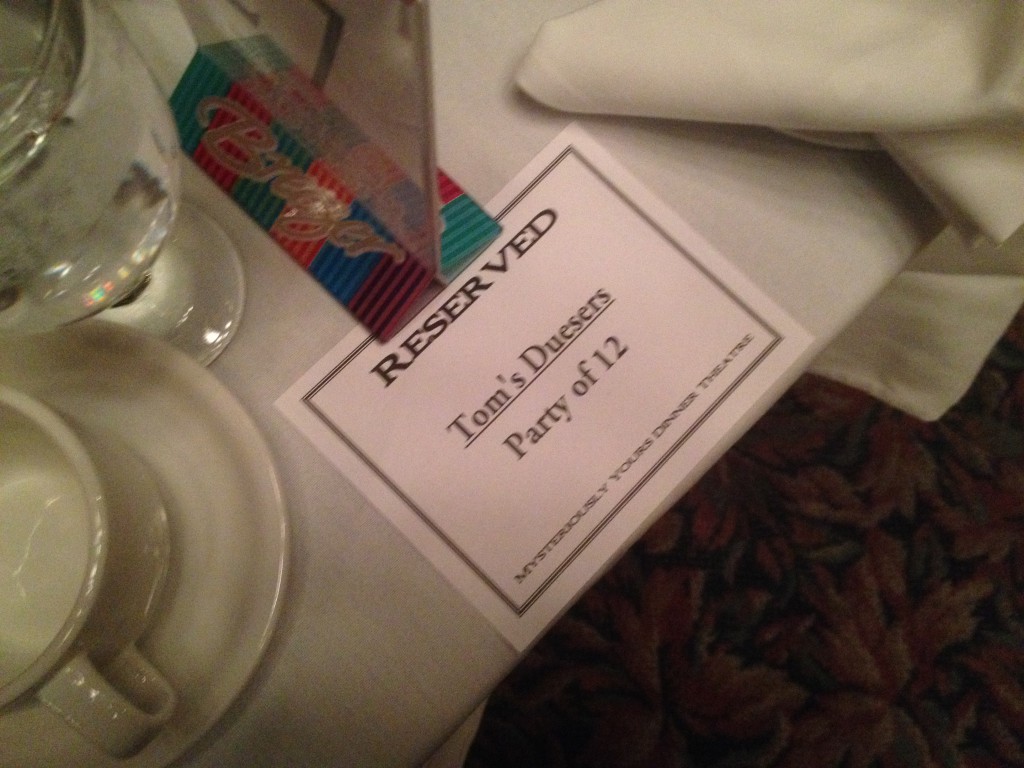 As we were seated, the dinner was served. I settled for the beef stew, and it was really, really tasty.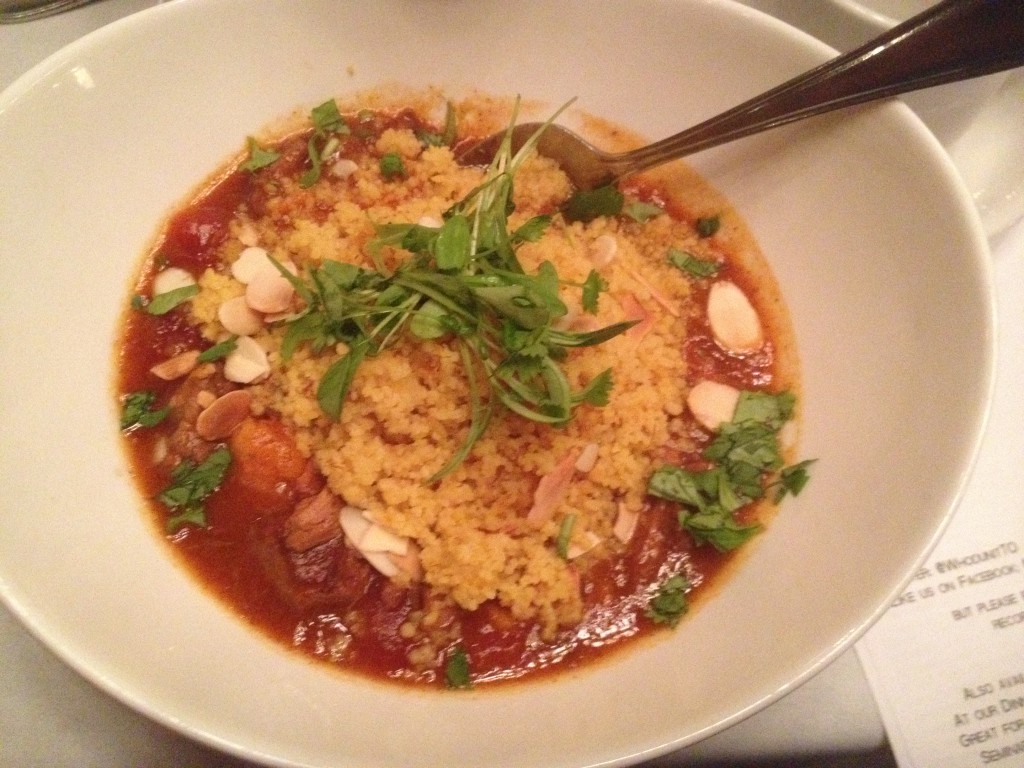 Three courses were included in the price, and the actual theatre didn't really start until all the dishes had been served and the tables cleared afterwards. Though the first sign that something was about to happen was when a man dressed in a wet suit suddenly started to sneak around the tables, in a Tom Cruise like manner.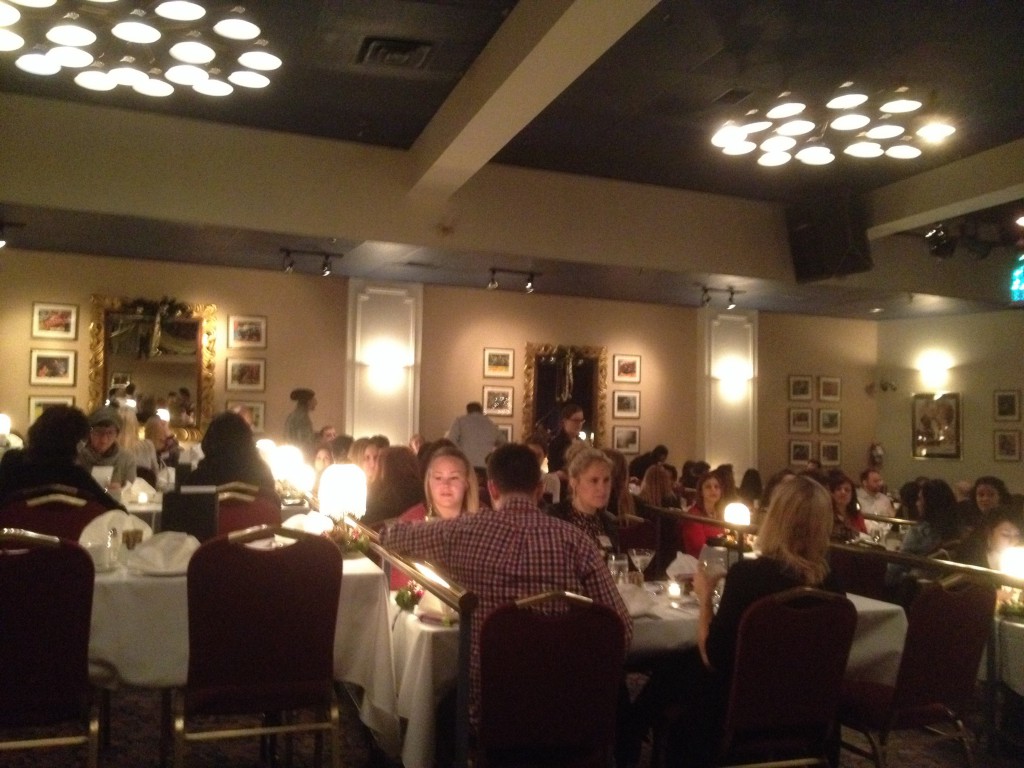 The beautiful "Mysteriously Yours" venue.
He was soon to be joined by a female agent with thick, Russian accent, some kind of a general, a young woman in a beautiful dress, a very life like Austin Powers, with the accent and all… and then of course, Tom, as a James Bond agent.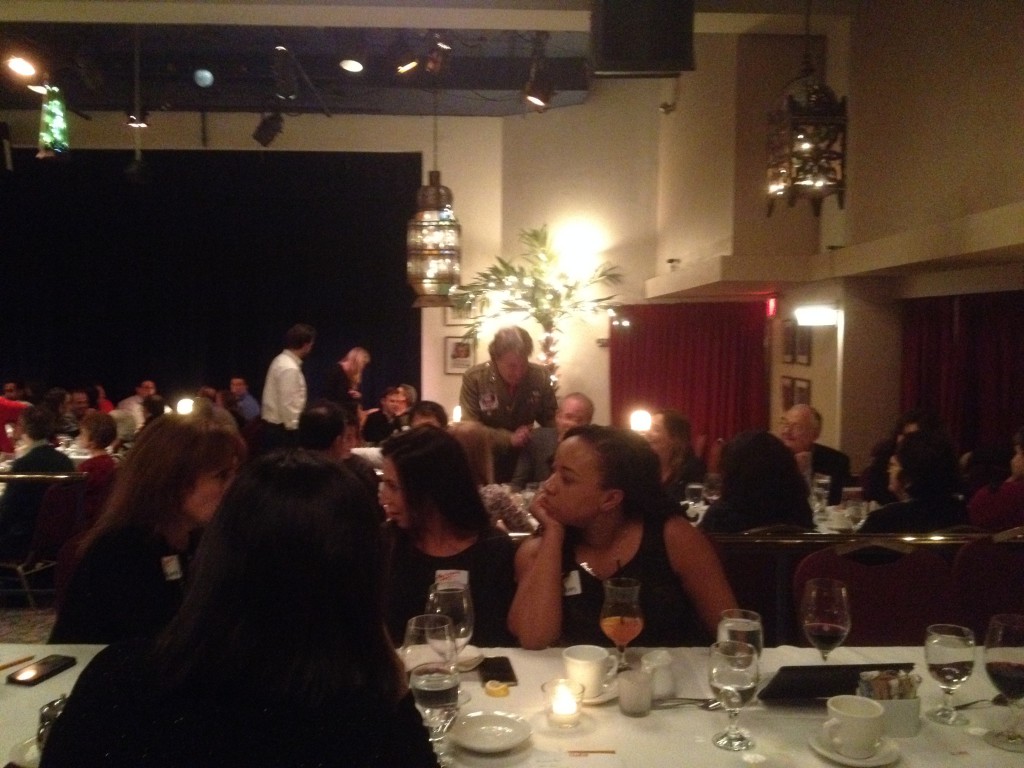 "Agents" warming up the tables as the show was about to start.
I will not give away too much of the story, but the audience had a big part in it, and we had lots of fun. The actors truly seemed to enjoy themselves too. When we handled in our clues after the show was over, however, it turned out I had totally suspected the wrong guy. I blame it on the fact that it was my first time there! 😉
One thing is for certain–next time I return to Toronto, I will absolutely go there again! 🙂
Before we left, we had to take a group picture, of course…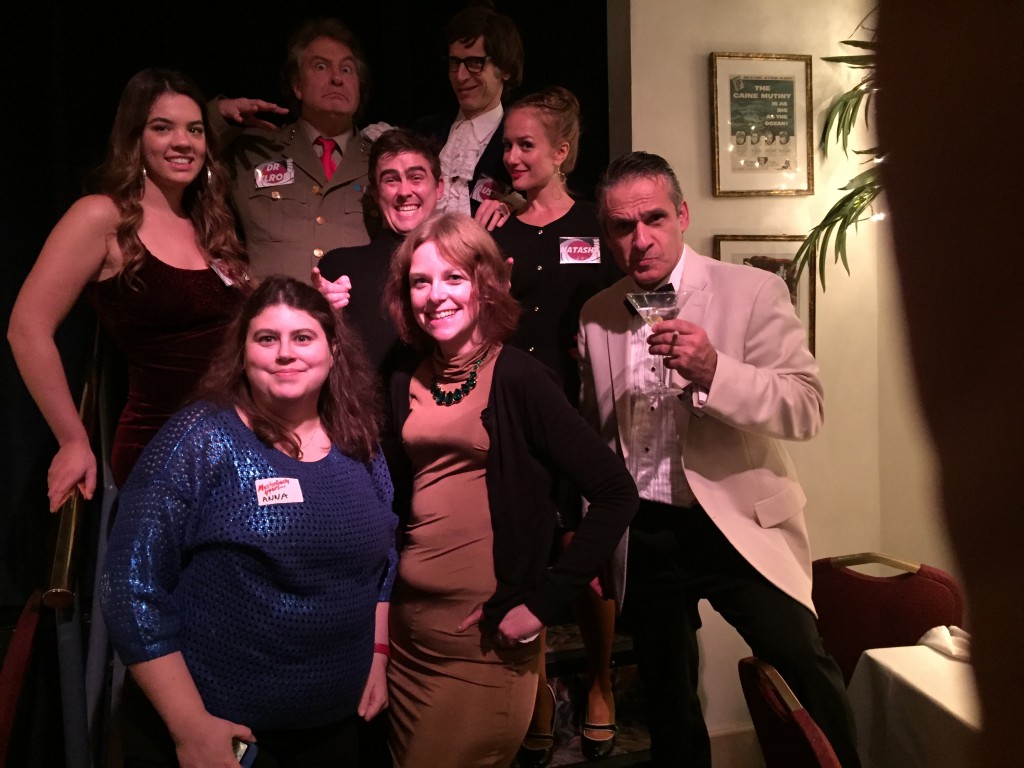 When the show was over, Tom took us all out to a local bar where we just sat for a little bit, discussing the show. I'm very grateful that he made us discover this, and it was also a great opportunity for us to get to spend some more time with our dueSer friends!
Since the Patrician is closed on Sundays, next morning we headed out once more to have brunch with some of the dueSers from the night before, at another restaurant which looked like something out of a British fairy tale, and actually went by the awesome name of The Hair Of The Dog.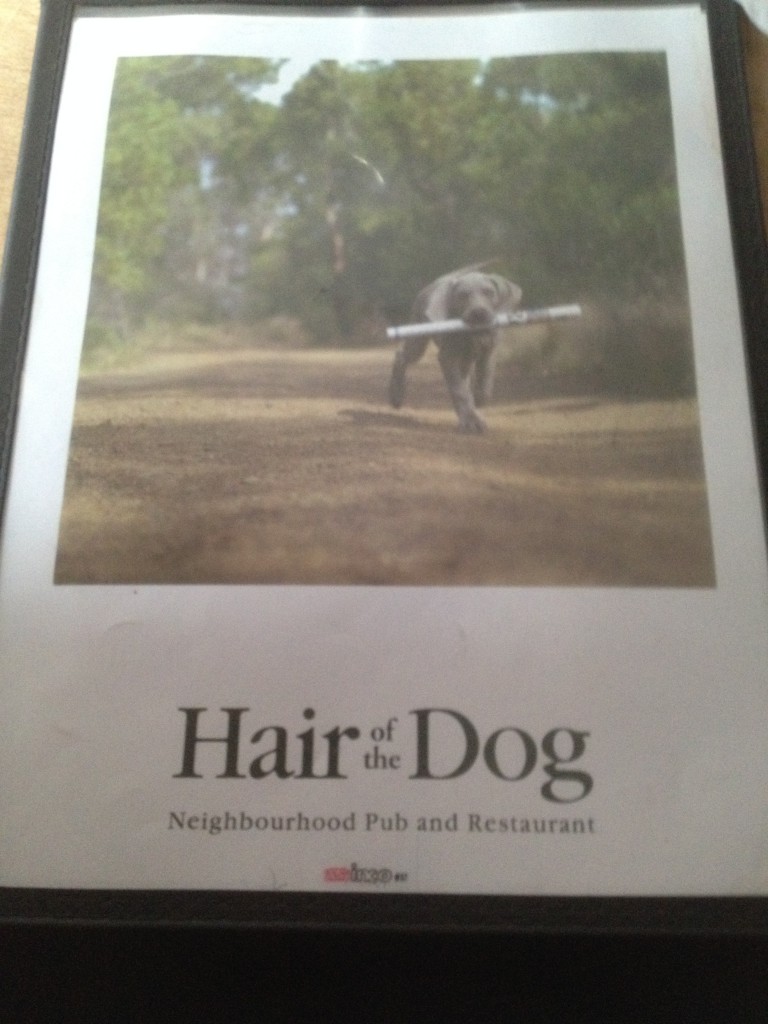 Their food was pretty awesome too, and naturally I had to order something that came with maple syrup, for my last real meal in Canada, this time around. I settled for some wafers with fried chicken and fruit.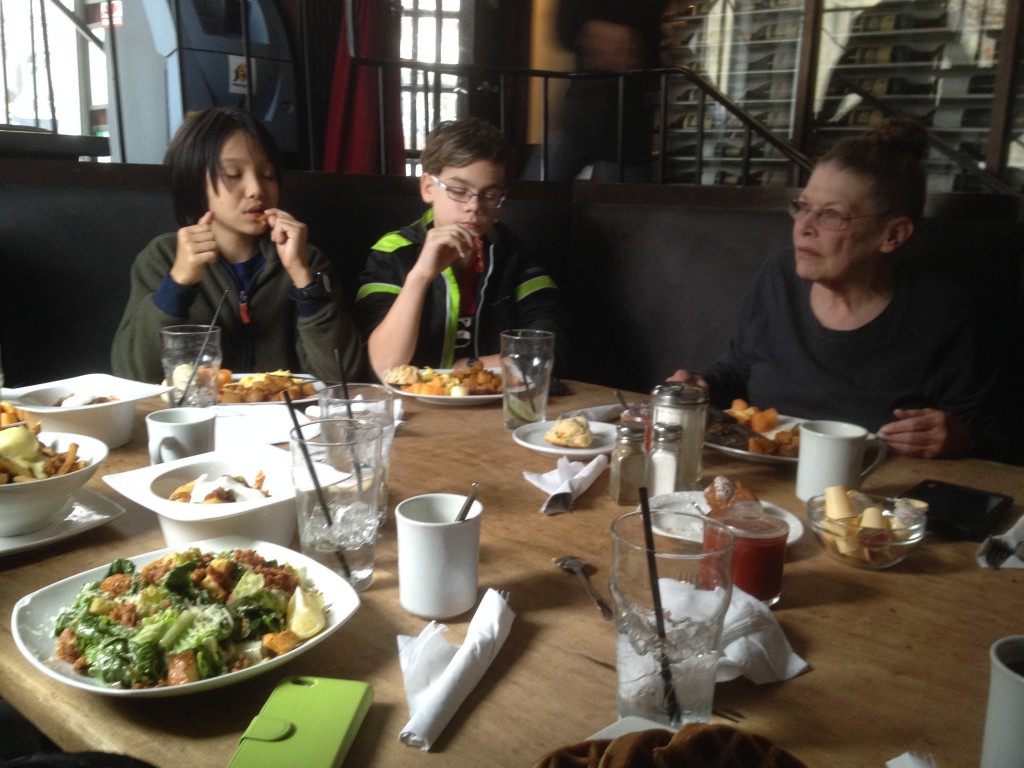 After the dinner, we had to say good bye to some people from the group. I really hope I'll get to see them all again soon! Some of us wandered on to the Loblaws mall, where Erika and I bought some fresh fruit and such, for the journey home.
It was with heavy hearts that we finally picked up our bags at the hotel and headed towards the subway for the last time. There are no words that can describe how happy I am to have discovered Toronto, and all of the great people who live there. Even though I still don't know the city very well–especially considering my terrible sense of direction–part of me… well, just *belongs* there. I really hope I to get back soon, and in the meantime, when times are rough, I will try and close my eyes imagining I'm already there… heading to see another play at the Berkley Street Theatre, strolling around at the Distillery district or sitting at the Patrician  with a bunch of friends, laughing and enjoying a late breakfast.
Until then, I'll wear these pins every day, thinking of you all, and how grateful I am to have been introduced to this fandom, this city, and The Land of Squee, as someone from the due South Forum once dubbed it.
Thank you kindly.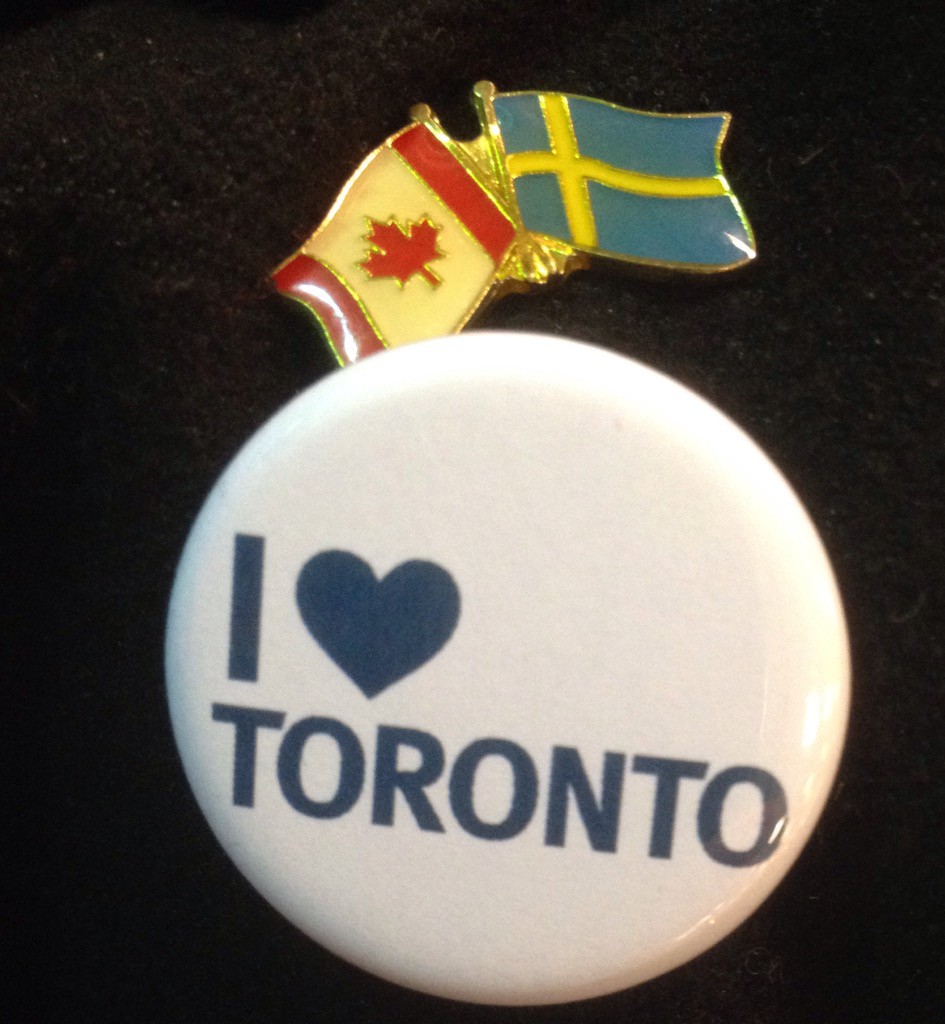 P.S. Don't miss Tiffany's very well written review of Domesticated at the due South Forum. I basically agree with everything she says. 😉 D.S