Today makes a very special day, since I and Erika booked the first (and technically also the last) part of our transatlantic trip–in fact, the actual transatlantic part of the trip! 😉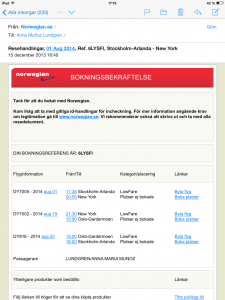 Now it's decided: We'll be leaving Sweden on August 1, 2014 and return on August 19, 2014! Needless to say, we're excited beyond words…
From New York, we're planning to proceed to Chicago and meet up with some of my old friends, then proceed to Ottawa, and finally to Toronto and the convention. Between August 18 to August 19, we're going back to New York to board our return flight to Sweden.
The US domestic and Canadian flights/trains will be booked later, we're taking this one step at a time. Next, we'll probably book our hotel room in Toronto, most likely at the Marriott…
By the way, I also added some of this info to the FAQ section and updated the "nice:ish link section to the right. Be sure not to miss the chat with Paul Haggis, if you haven't seen it already… it's an awesome read!
Until next time–stay tuned! 🙂